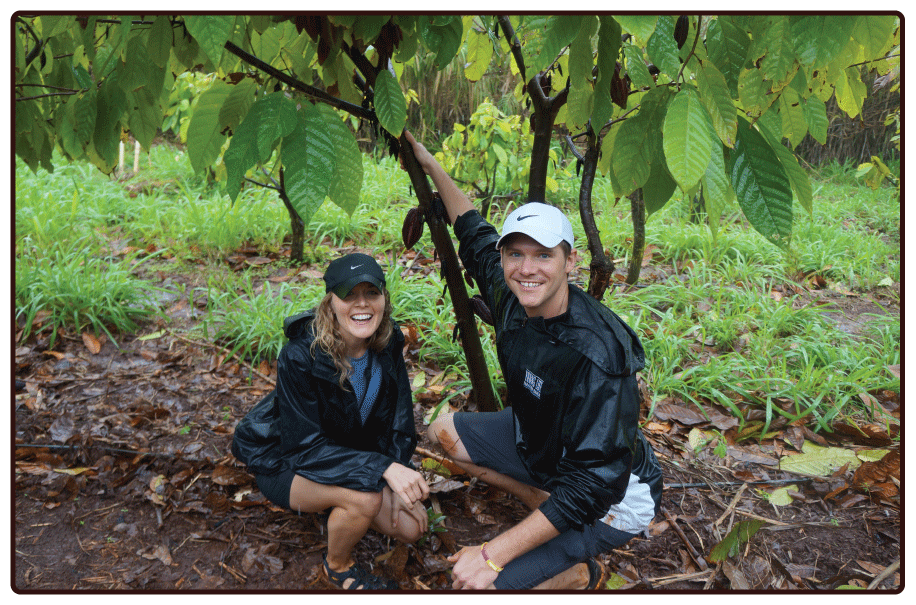 In this response we hear from Josh and Kristin Mohagen, founders of Terroir Chocolate in Fergus Falls, Minnesota. The Mohagens were inspired on a honeymoon trip to California and came to the realization that they could do with cocoa beans what vinters do with grapes. They define their company name Terroir, as a "taste of place", referring to how the flavor of chocolate can embody the flavors of the bean and how they are processed. Josh and Kristin share their secrets of bringing out the taste of place through the inspiration they receive from traveling, reading, tasting and more.
In our journey into the chocolate making world, we have found that creating the space for instinct to develop and thrive has been the most important part of our growth. There are a few discipline's that have served us very well entering this challenging craft that we think would have great benefit to any aspiring chocolate maker.

Get Away. We recommend seeking out fresh environments to inspire you and encourage you. From the beginning we have been intentional about scheduling trips to visit other craft chocolate makers, as well as artisans in various industries. The wisdom we receive from each encounter invigorates us to keep learning, digging deeper. Every three months we schedule some sort of a vacation for both our own enjoyment and our craft. We have found these trips to help a great deal in breaking us out of creative ruts and inspiring us into new possibilities.

Read. Build on all the knowledge that others have recorded. Often times, the advice from chocolate makers comes in the form of a list of books to read, which we have found incredibly helpful. Although not always our first choice of activity, making the space to read the science of chocolate or history has greatly improved our chocolate quality. As we revisit some of the books, we find how much our understanding has grown and certain parts jump out at us that had never grabbed our attention before.
Here are three books to get you started
The True History of Chocolate by Sophie D. Coe & Michael D. Coe
The Manufacture of Chocolate and Other Cacao Preperations by Paul Zippperer
The Science of Chocolate by Stephen T. Beckett
Taste. Seneca Klassen gave us some of the best advise an aspiring chocolate maker could ever receive. Continuously be tasting chocolate from other makers. The habit of always tasting chocolate will keep you sharp and aware. You will start to grow your own opinions of what you like and what you don't like. You will learn new possibilities and start to form ideas of where you would like to take your own chocolate. You will know better how to evaluate what you are making, and often be pushed to try new things. The learning cycles as a maker are quite long, but tasting more than just your own chocolate will help you gain information and experience at a heightened rate. You will start to form in your own head what a certain bean could be. Don't stop experimenting until you're satisfied.

Keep making chocolate and trying new things. We learn something new with every batch we make. Our chocolate making has been a myriad of best guesses. Keeping detailed notes has been an important, yet difficult challenge in precision. Recording humidity, temperature, speed of the machines, when to add sugar, if and when to add cocoa butter. Sometime's we feel as if we've changed nothing, yet the outcome has changed completely. There is a mystery in the craft that we invite you to welcome, yet not to give up on your ability to play a part in the experience.
When we first started making chocolate, we had no idea what to do, or how to do it. We figured we just had to start trying. Our goal was to make chocolate each day six days a week. We blocked off four hours of uninterrupted time, no cell phones! At the end of the day, if we achieved our goal of spending four uninterrupted hours on chocolate making, we put a red X on our calendar. After 3 months, we had a lot of red X's! If you don't know what to do, start making!