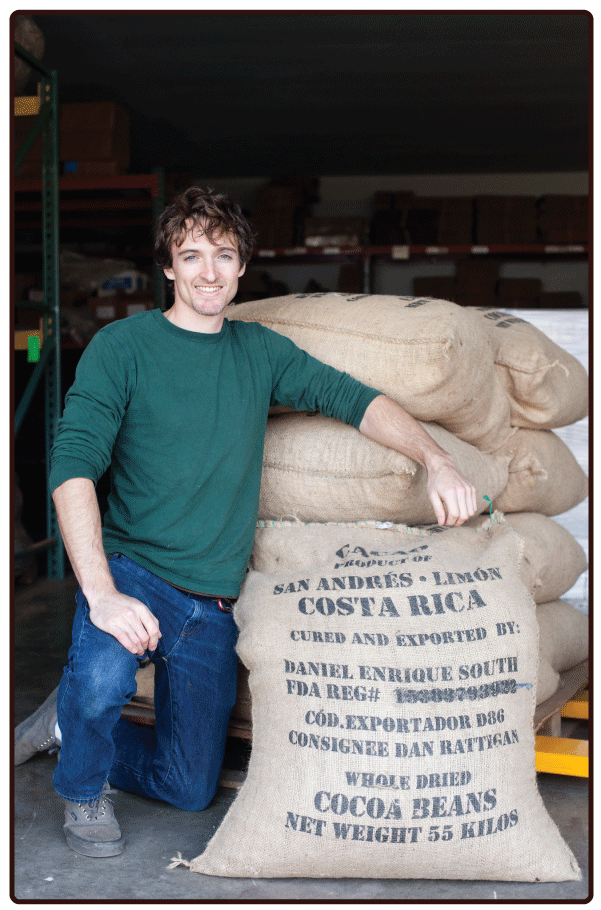 Dan Rattigan, who along with Jael Rattigan founded French Broad Chocolates in Asheville, North Carolina. Here's what they had to say.
Directly sourcing French Broad's cacao brings great pleasure and feelings of accomplishment. For us, the decision to embark on such a project flowed naturally from our history and our company vision.
We began our careers in chocolate not unlike many other born-again cacao enthusiasts. On track for professional degrees in business and law (Jael and me, respectively), Jael had an epiphany while making holiday truffles for family in her Minneapolis home kitchen. This moment gave her (and me, her life partner) clarity that chocolate would play a leading role in finding professional contentment. Early on, it was appreciation for the modern American bean-to-bar pioneers, like Scharffenberger, that shaped our passion.
By then we parted company with the garden-variety career-change-to-chocolate. We left Minneapolis to start a bakery cafe called Bread & Chocolate in the Caribbean village of Puerto Viejo in Costa Rica. And we bought an abandoned 5 acre cacao plantation (first as a homestead, only later to revitalize and cultivate cacao).
Amid Caribbean cacao farms, we shaped a key tenet of our ethic: know thy farmer. We sold the restaurant as young parents and repatriated, settling for good in Asheville. In 2007, French Broad Chocolates was born (the waters of the ancient French Broad River providing inspiration for a worldview embracing interconnectedness, reminding us of the dynamic balance between stability and change).
At first, we made truffles with organic chocolate bought from a very limited pool of availability. Complemented by a growing list of ingredients from our own food shed, acquired from our yard, our neighbor farmers and artisans, the lack of personal connection to the source of our chocolate didn't align with our vision. It wasn't long before we set the ultimate intention of making our own chocolate from cacao bought directly from the farmers and post-harvest processors.
Naturally, our connections to Caribbean Costa Rica seemed a perfect place to start. But good beans take time! We started buying cacao from an established cooperative in Piura, Peru, while our Costa Rica connection was developing. Having laid the groundwork by encouraging our baker Daniel, a native of Limón, Costa Rica, to go back to farming cacao. We hatched a plan together which sought to fulfill his goal to be self-employed and to retain a working relationship with French Broad. Within a few years, Daniel had secured a small loan to build a fermentary and buy a truck. Building this relationship with Daniel allowed us to have more control over post harvest practices as Daniel began implementing our specifications for fermentation and drying, ultimately giving us a greater impact on the final flavor of our chocolate. The early experiments weren't without failures though: many sacks ended up moldy or bug infested while he and his nephew figured out the tricks to preserving cacao amid constant weather fluctuation. But he persevered and in September of 2013, completed his first successful export to us! A mere 700 kilos, it felt momentous to receive those first 13 sacks. We sent them air freight, for which we paid dearly, but they showed up without a hitch.
We had ordered significantly more, and we had chosen to offer him pre-harvest financing of half the sale price. This helped him get on his feet and have the cash to pay his partner farmers (cacaoteros) upon pickup of wet seed; exceedingly important amid a background of mistrust of cacao buyers, the unfortunate case of the regional cooperative who had been giving IOUs rather than cash.
Since then, Daniel has continued to learn, through much trial and error, how to produce great cacao. There have been more shipments that were not of a high enough quality, almost completely related to drying issues in the very humid Costa Rican Atlantic zone. This year, we organized our trusted Nicaraguan cacao processors to take a road trip to visit and consult Daniel. Fermentation was given high marks, but drying was confirmed as being the biggest challenge. They made recommendations to build a mechanical dryer to supplement the sun. Daniel is currently getting a dryer built, and we expect much more consistent results in the future.
Trust is the word. Without trust, none of this international dealing would make the least bit of sense. We pay in advance based on trust that Daniel will deliver. Daniel, in return, is now consigning the excess of our business' own production need. Our position is non-exclusive: the way we see it, if Daniel has the capability to produce fine flavor cacao, we want to see more of our colleagues using it. Our potential for financial return is slight. But our pride and satisfaction in seeing Daniel's success is ultimately the return on investment we want.
Dan Rattigan